No honestly, it really is!
We are one of the largest UK growers of Poinsettias, and for us that means Christmas is never far from our mind.These iconic Christmas plants take a lot of planning to get right, and when you are growing over 650,000 there is a lot to do.
We have to start thinking about next Christmas before this one has even started! This often begins for our Production team, deciding on trials of new varieties. We must always trial new varieties to ensure that they grow right and then perform in our customer's homes. Imagine if a chef wanted to launch a new dish on his menu and he hadn't even given it a test run- it would end in disaster! Our growers are like chefs – they must test their varieties first.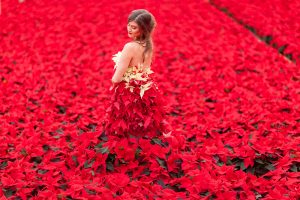 Another focus for us all year is keeping an eye on the latest trends in fashion, interiors and in the world of horticulture. It's a hard life, visiting our favourite department stores, reading interior magazines and wandering around Trade Shows in awe of the newest brands on the scene. Things can change quickly, with new colour ways becoming hot (or not) seemingly overnight, so we try our very hardest to keep in touch with what's happening. Fashion often leads the way with trends and industries like interiors, architecture and design take inspiration and creativity from the Catwalks all over the world.
Christmas designs and trends tend to always feature a bit of red and white! Surely it wouldn't be Christmas without that little chubby Santa somewhere? But what we are seeing more and more is innovative takes on our favourite time of year, with glitter sprayed begonias, poinsettias in hanging ceramics and succulent wreaths hung on doors. In the UK, Christmas spending hit an all-time high in 2016 with the average British Household spending £753 on Christmas, and the UK as a whole hitting a national spend of over £77 billion!
It is an eternal battle for brands and retailers to get it right and that is why "the most wonderful time of the year" is actually the most planned time of the year!
Our range gets finalised in March, the poinsettias get planted in July, the ceramic pots start to arrive in September and the staffing hours start to increase from October. With ribbons to tie, beautiful Christmas lights to thread on our trees and fake snow placed precisely in the glass vases, things have to start early at Hills.
So off we go, on this sunny September day, ramping up our business (and putting on the Christmas songs) ready for our favourite time of the year!
See our range of Poinsettias and other indoor plants here